Reducing development costs by resolving site challenges is one of our top priorities.
The fundamental element in quality site engineering is proper site grading. It provides the most efficient use of the site, creates building lots that drain properly, balances earthwork quantities so costs are minimized and optimizes the design of efficient road, sewer, and storm drain systems.
MRA's extensive road and utility design experience provides clients with value engineering that makes all the difference.
MRA's years of experience with federal, state, and local regulatory agencies enables us to provide our clients with sound advice regarding
code compliance and public facility commitments.
Our success has been the result of innovative concepts, constructible designs, and a high level of service to our clients.
Expertise
Coastal Engineering and Shore Protection
Water Quality Facility Design and Retrofit
Earthen Embankment Design
Floodplain Analysis, Creation, Restoration, and Enhancement
Erosion and Sediment Control
Construction Administration and Management
Aspen Heights Towson, Baltimore County, MD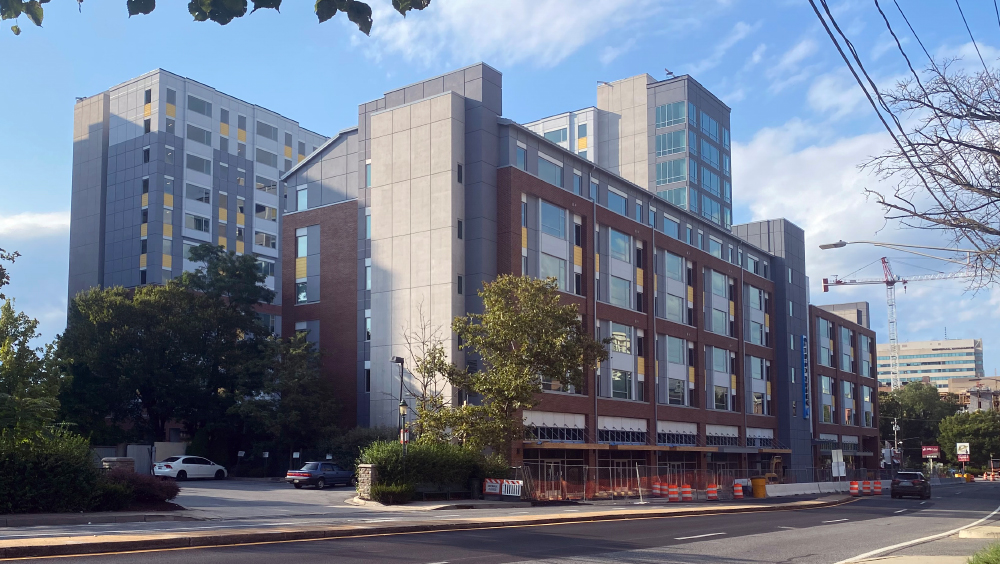 Aspen Heights Towson, located at 101 York Road, is a mixed-use development located in the heart of Towson. This 500,000-SF project includes 248 studio, one-, two- and four-bedroom residential units intended for students attending local higher education institutions. The building includes first floor restaurant and retail space facing York Road which will provide for a vibrant streetscape. The entire building is located on top of several levels of structured parking which can be accessed both from York Road and Burke Avenue. Also included is an extensive green roof system to address stormwater management requirements and a rooftop terrace which includes a variety of program elements for the students including grills, a bocce court, seating areas, and study areas. MRA worked closely with the client, Baltimore County staff, Maryland State Highway Administration staff, local community groups, and an extensive team of design professionals in the development of this complex project. The project started as sketches and progressed through the entire approval process including the Concept Plan, PUD Development Plan, Community Input Meetings, Administrative Law Judge (ALJ) Hearings, and finally into construction drawings and permitting, and construction administration. MRA provided land planning, civil engineering, structural engineering associated with site/civil components, landscape architecture, and construction stakeout services.
Meade's Crossing, Carroll County, MD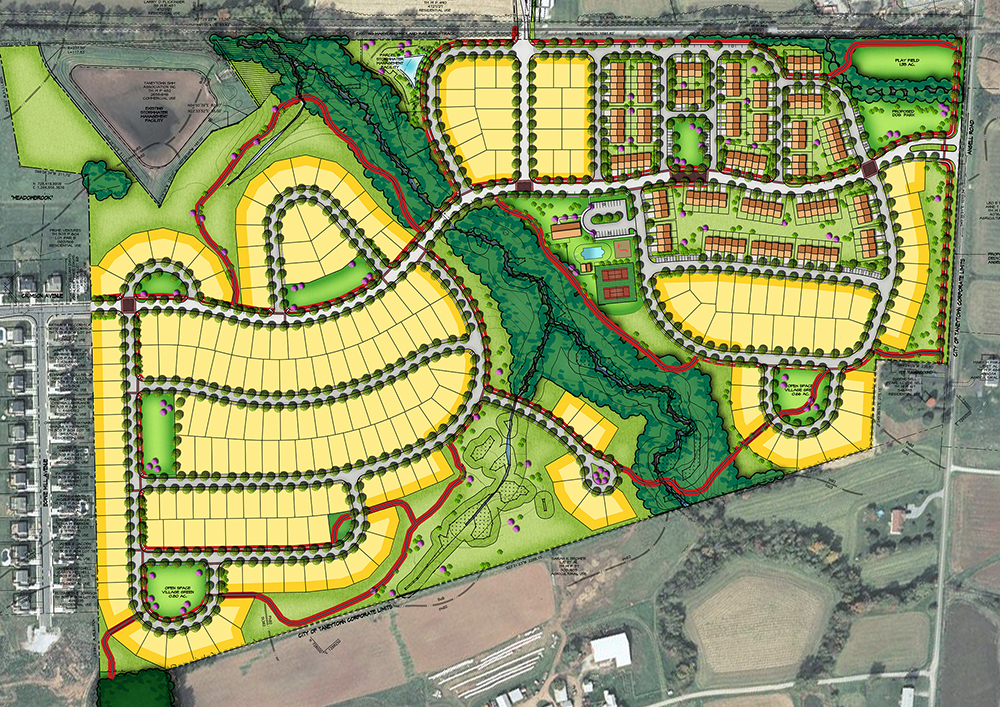 AWARD:
Award of Excellence – Maryland Building Industry Association, Land Development Council
MRA provided land planning, civil and site engineering, landscape architecture, surveying, and builder services for this award-winning community named for the historic land on which General George G. Meade maintained his headquarters before marching his troops to Gettysburg. Amenities planned for this 363-home single-family and townhome community located on 98 acres off of MD Route 194 in Taneytown include a community center with swimming pool and sports court, community garden, walking trails, pocket park and dog park. As part of the overall services, MRA provided a State Highway Improvement Plan, a 0.327 MGD sewage pumping station and 716 LF of 4-inch force main.
Greenleigh at Crossroads, Baltimore County, MD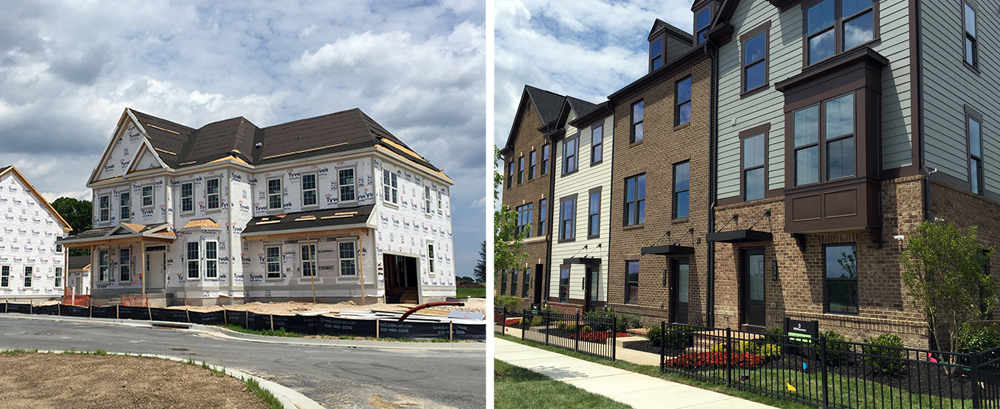 AWARDS:
Community of the Year, Maryland Building Industry Association, Land Development Council
Award of Excellence, Best Mixed-Use Development, NAIOP, MD Chapter
Greenleigh at Crossroads is a 240-acre development located in White Marsh, Maryland. This master planned development, which blends housing, retail, office, and warehouse/office flex space, is contained within a larger 1,000-acre Master Plan known as Baltimore Crossroads. MRA is providing site / civil engineering, construction administration, and project close-out services for the 175-acre residential component of the Greenleigh project. The residential unit mix is comprised of approximately 300 single family homes and 700 townhomes, and incorporates a high-density, "neo-traditional" site layout, with 65 acres of environmentally sensitive areas and open space with various amenities (clubhouse, pool, dog park, pocket parks, and walking trails). The project's site engineering involves road and utility (water, sewer, storm drain) design, mass and final grading, erosion and sediment control, stormwater management, and record plats. Entitlements for the project require review and approval from multiple jurisdictions including Baltimore County, the Maryland State Highway Administration (MDSHA), Maryland Department of the Environment (MDE), and the United States Army Corp of Engineers (USACOE).
Medical Office Building at East Run, St. Mary's County, MD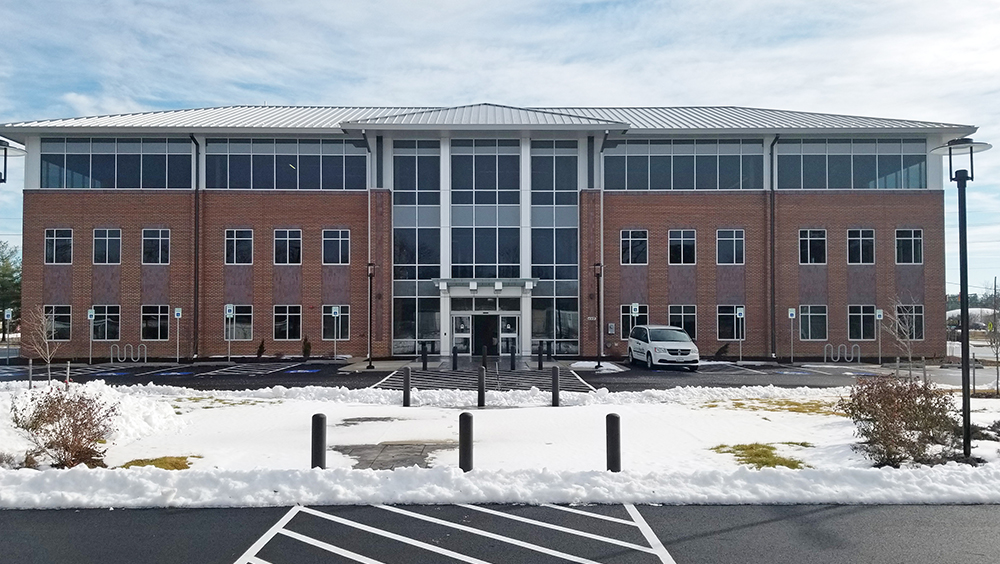 MRA provided surveying, planning, final engineering, and landscape architectural services for the Fast Tracked Medical Office Building at East Run. The three-story, 44,500-SF building and associated infrastructure was granted a "Health Enterprise Zone Grant."
MRA also provided master planning services for the redevelopment of the existing 78-acre Lord Calvert Manufactured Home Park. The redevelopment plan, known as 'East Run,' proposes a mixed-use community to be comprised of 52 single-family lots, 87 townhomes, 256 apartment units within 8 buildings, a 5,000-SF community center, and 100,000 SF of commercial uses on six pad sites including grocery store, pharmacy, day care center, and restaurants. MRA provided design development services for East Run, involving a master grading, utility, forest conservation and stormwater management analysis, to ensure that the infrastructure was designed to accommodate the full build-out of the project.
Bulle Rock, Havre de Grace, MD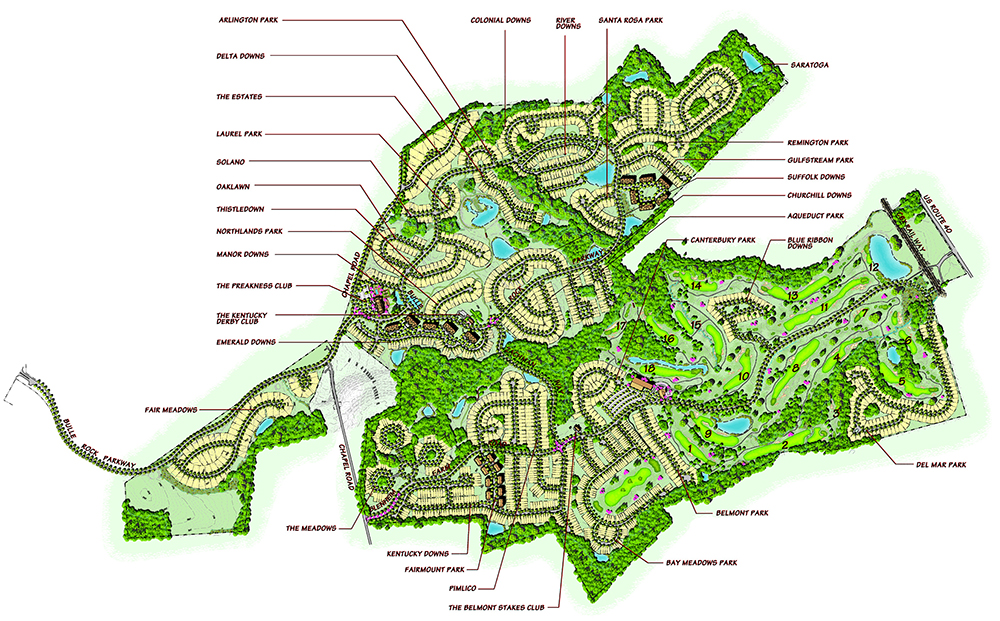 AWARDS:
Residential: Project of the Year – Home Builders Association of MD, LDC
Community Center: Best in America Living Award; Regional Award for Best Landscape Design for a Detached Community – National Association of Homebuilders
Community Center: Award of Excellence, Project Amenity – NAIOP, MD Chapter
RESIDENTIAL
MRA prepared an overall master plan, detailed site plans for each residential/ business neighborhood, and the community-wide amenity package for this award-winning residential community. MRA also assisted the development team in annexing the property into the City of Havre de Grace, prepared all of the detailed engineering and subdivision plans for submission to the City, and continues to assist in the implementation of each part of this award-winning community containing 927 single-family detached homes, 789 single-family attached homes, and 402 condominium units on 977 acres.
GOLF COURSE
MRA was responsible for all engineering, surveying, stream relocation design, and permitting of the Pete Dye, 18-hole golf course overlooking the Chesapeake Bay, as well as the design of utility systems, and landscape architecture for the entire project. Irrigation is handled by means of two wet ponds designed as part of the golf course and fed by a water supply line from the Chesapeake Bay.
COMMUNITY CENTER
MRA provided planning, site engineering, landscape architecture, and surveying services for the award-winning community center and recreation facility. The Residents' Club at Bulle Rock includes a 40,000+SF, two-story building, indoor and outdoor swimming pools, tennis courts, bocce court, putting green, and large outdoor patio on a six-acre parcel of land. A long retaining wall was designed, with heights ranging from 4 to 13 feet, to wrap around the side and rear of the patio and pool area.
Sandy Point State Park, Replacement of Timber Bulkhead, Anne Arundel County, MD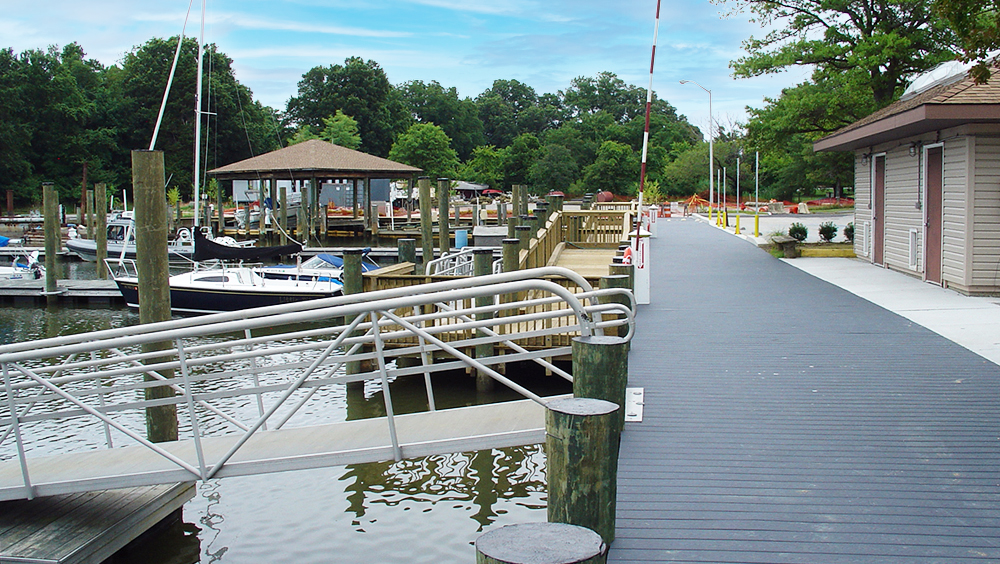 MRA provided surveying, planning, engineering, landscape architecture, environmental permitting and construction observation services for the $3 million renovation of the existing Sandy Point Marina Facilities for Maryland Department of Natural Resources. The project includes over 1400 LF of replacement bulkhead, boardwalk, parking lot, handicapped accessible boarding piers and landscape improvements. Integration of Water Quality Enhancement and Buffer Mitigation to comply with State Critical Area requirements in the park were critical to the success of the project.
Claymont Library, New Castle, DE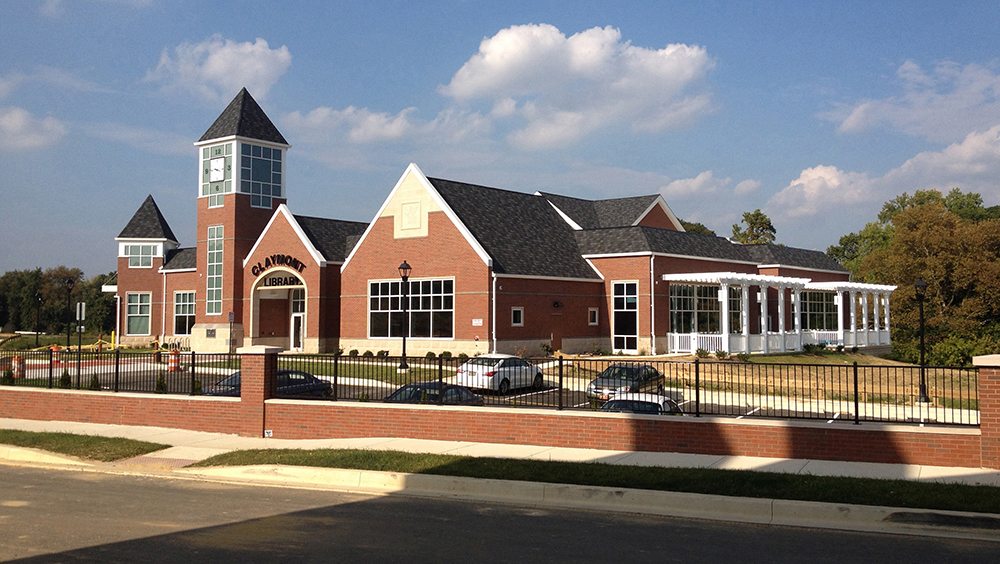 MRA provided project management, architecture, structural and civil engineering, landscape architecture, and surveying services for the new 17,472-GSF library, with expansion capabilities to 22,000 SF.
Designing the Claymont Library was quite a challenge. The site was covered with three stormwater management ponds that serviced the surrounding 60-acre residential development. The Friends of the Claymont Library requested a landmark building with a "wow" factor that would address all of Claymont, not just the immediate neighborhood. MRA reengineered the existing stormwater management ponds, creating a hilltop parcel overlooking the residences, serving as a prominent focal point for a future boulevard. Tremendous cost savings were realized though a careful grading/earthwork analysis while still satisfying structural fill requirements. MRA also rewrote the Neighborhood Design Guidelines, on behalf of the County, to allow us to locate parking conveniently near the front door, while depressing the grade elevation in order to screen the parked cars from the neighborhood.
The Ripken Experience Aberdeen, Aberdeen, MD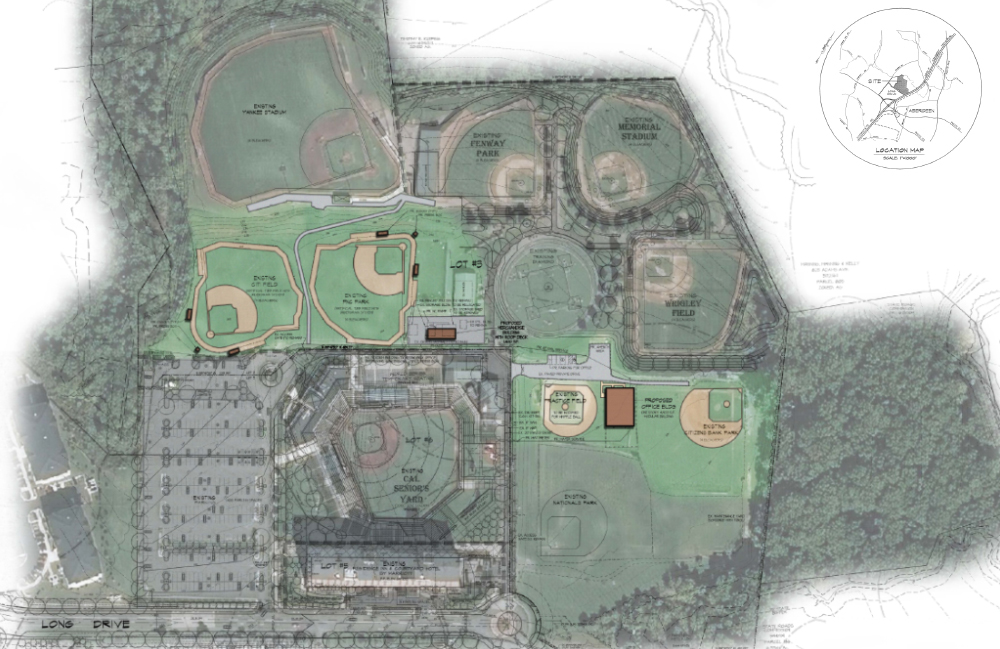 MRA provided master planning, site and civil engineering, landscape architecture, and surveying services for the 44-acre Ripken Experience Aberdeen, which is adjacent to Leidos Field at Ripken Stadium, home of the Aberdeen IronBirds minor league baseball team. The Ripken Experience is a state-of-the-art youth baseball camp and tournament facility featuring scale replicas of famous major league ballparks along with associated fencing, backstops, scoreboards, press boxes, dugouts and spectator seating areas, including: Cal Ripken Senior's Yard and Stadium (60-foot baseball diamond and 2,000-seat stadium), a replica of Oriole Park at Camden Yards; a 90-foot Yankee Stadium baseball diamond; 70-foot Citi Field, PNC Park, Fenway Park, Memorial Stadium, Wrigley Field, Citizens Bank Park, and Nationals Park. The complex's amenities include a training diamond, batting cages, tot lot, photo booth, picnic area, concession stands, and restrooms.  Plans for future construction include an office building for the Ripken Baseball headquarters, a merchandise building, and retrofit of a practice field.
MRA also provided structural engineering and surveying services for the 7-story, 155,000-SF Courtyard & Residence Inn by Marriott (brick replica of the Warehouse at Camden Yard).
Representative Projects
---